website of the group of bike enthustiastics: MotoClubIndianos.com =>>link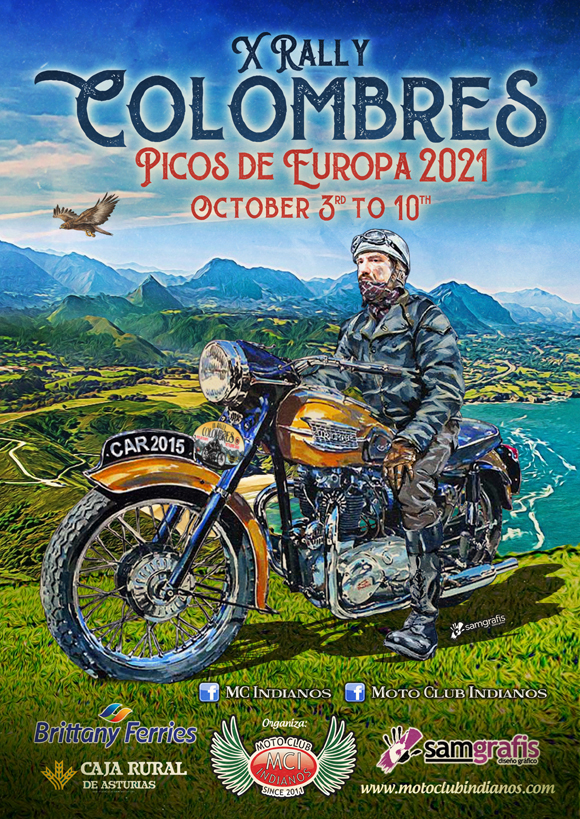 It is an unmissable event on the classic motorcycle calendar and acclaimed internationally in several magazines as one of the best classic motorcycle rallies in Europe, the next Colombres Rally will take place from 3th to 10th October, 2021.
Only bikes registered before 1988 participate in the event.Daily routes are scheduled for 7 days. They reach between 75 and 155 miles, and are run through some of the most beautiful landscapes of northern Spain and the highest mountains of PICOS DE EUROPA; all routes have a generous and delicious snack that will allow participants to continue enjoying themselves without worrying about anything else than riding a motorcycle.

In addition, the organization provides an assistance van in order to pick up or remove the bikes in case of failure during the route.On Friday 8th October, the famous 300 miles route will be held, in which the intrepid participants will ride 300 millas through the most demanding ports of Picos de Europa, along this route three roadblocks will be set up without knowing their location. This is a challenge only for real road racers, and former riders such as Mr. Cesar Gracia Samper (the former Spanish 125cc champion in 1959 and runner-up in Europe in 250cc) never miss it.
For the remaining participants, a "lighter" version of the 300-miles route will be organized, with fewer miles, but keeping the beauty of the route.During the weekend (9th and 10th October) all classic motorbikes lovers and supporters will be able to enjoy from 10.00 am. to 8.00 pm the "Classic Motorcycle Exhibition and Autojumble" which will be held in the Colombres sports centre; a good opportunity to find everything you need for your mounts, as well as all kind of articles related to motorbikes. Moreover, there will be a nice indoor exhibition of classic motorcycles that we recommend you to see.
On Saturday 9th October will take place the "Subida Bustio-Colombres 12+1" where riders and mounts will delight the public; every year we have the participation of a guest of honour, the last one was Mr. Carlos Cardus, ex official rider of the Repsol-Honda team and sub champion of the world in the category of 250 cc in 1990, champion of Spain of 250 cc in 1982 and 1983 and champion of Europe in 1983. Previous years also had the participation of the legendary British Ducati rider Mr. Paul Smart who, in addition to riding a Ducati, rode with us during the week in the Classic Motorcycle Rally.On Sunday 10th October will take place the classic Motocross, a show in which we can see riders of yesteryear riding on their Bultacos, Ossas, Montesas, Puch … in addition to a whole cast of ex-riders as Mr. Jose Angel Mendivil (3 times champion of Spain and 3 times runner), Mr. Jesus Saiz (1 time champion of Spain and runner), Mr. Jose Maria Saiz "Titin"…As topped off this event, on Sunday we will devote an activity to the new generations with the dispute of the "Toy motorcycle race" for boys and girls where the future riders will delight the public that jellies their evolutions with great fervor, a authentic show in which not only the little ones but also the older ones will enjoy.
All this is just a small incentive of what the Rally de Colombres is; if you really want to feel and live the "Spirit of Colombres" you have no other choice but to sign up… we are waiting for you!
---
auf deutsch:
Die nächste Rallye Colombres findet vom 3. bis 10. Oktober 2021 statt. Sie ist ein unverzichtbares Ereignis im Kalender der klassischen Motorräder und wird von mehreren internationalen Zeitschriften als eine der besten klassischen Motorradrallyes in Europa bezeichnet.
Nur Motorräder, die vor 1988 registriert wurden, nehmen an der Veranstaltung teil. 7 Tage lang sind tägliche Routen geplant. Sie haben eine Länge zwischen 75 und 155 Meilen und führen durch einige der schönsten Landschaften Nordspaniens und die höchsten Berge von PICOS DE EUROPA; alle Strecken sind mit einem großzügigen und leckeren Imbiss ausgestattet, der es den Teilnehmern ermöglicht, sich zu vergnügen, ohne sich um etwas anderes als das Motorradfahren zu kümmern.
Am Freitag, den 8. Oktober, findet die berühmte 300-Meilen-Route statt, bei der die unerschrockenen Teilnehmer 300 Meilen durch die anspruchsvollsten Pässe der Picos de Europa fahren werden; entlang dieser Strecke werden drei Straßensperren aufgestellt, ohne dass die Teilnehmer wissen, wo sie sich befinden. Dies ist eine Herausforderung nur für echte Rennfahrer, und ehemalige Fahrer wie Cesar Gracia Samper (ehemaliger spanischer Meister in der 125er-Klasse im Jahr 1959 und Vize-Europameister in der 250er-Klasse) lassen sich dies nicht entgehen.
Für die übrigen Teilnehmer wird eine "leichtere" Version der 300-Meilen-Strecke organisiert, mit weniger Kilometern, aber unter Beibehaltung der Schönheit der Strecke.Während des Wochenendes (9. und 10. Oktober) können alle Liebhaber und Fans klassischer Motorräder von 10.00 bis 20.00 Uhr die "Ausstellung klassischer Motorräder und Autojumble" im Sportzentrum von Colombres besuchen; eine gute Gelegenheit, alles zu finden, was Sie für Ihre Motorräder brauchen, sowie alle Arten von Artikeln, die mit Motorrädern zusammenhängen. Außerdem gibt es eine schöne Indoor-Ausstellung von klassischen Motorrädern, die wir Ihnen empfehlen.
Am Samstag, den 9. Oktober, findet die "Subida Bustio-Colombres 12+1" statt, bei der Fahrer und Reittiere das Publikum begeistern werden; jedes Jahr nehmen wir einen Ehrengast mit, zuletzt Carlos Cardus, ehemaliger offizieller Fahrer des Repsol-Honda-Teams und Vize-Weltmeister in der Kategorie 250 cm³ im Jahr 1990, spanischer Meister in der Kategorie 250 cm³ in den Jahren 1982 und 1983 und Europameister im Jahr 1983. In den vergangenen Jahren nahm auch der legendäre britische Ducati-Fahrer Paul Smart teil, der nicht nur auf einer Ducati fuhr, sondern auch während der Woche an der Classic Motorcycle Rallye teilnahm. 10. Oktober findet das klassische Motocross statt, eine Show, bei der wir die Fahrer von früher auf ihren Bultacos, Ossas, Montesas, Puch … sehen können, sowie eine ganze Reihe ehemaliger Fahrer wie Jose Angel Mendivil (dreimaliger spanischer Meister und dreimaliger Vize-Meister), Jesus Saiz (dreimaliger spanischer Meister) und viele mehr. Jesus Saiz (1-maliger spanischer Meister und Läufer), Jose Maria Saiz "Titin"… Als Krönung dieser Veranstaltung werden wir am Sonntag eine Aktivität für die neuen Generationen mit dem Streit des "Spielzeug-Motorrad-Rennens" für Jungen und Mädchen widmen, wo die zukünftigen Fahrer das Publikum begeistern werden, das ihre Entwicklungen mit großer Inbrunst verfolgt, eine authentische Show, an der nicht nur die Kleinen, sondern auch die Älteren Spaß haben werden.
All dies ist nur ein kleiner Anreiz für die Rallye de Colombres; wenn Sie den "Geist von Colombres" wirklich spüren und leben wollen, haben Sie keine andere Wahl als sich anzumelden… wir warten auf Sie!