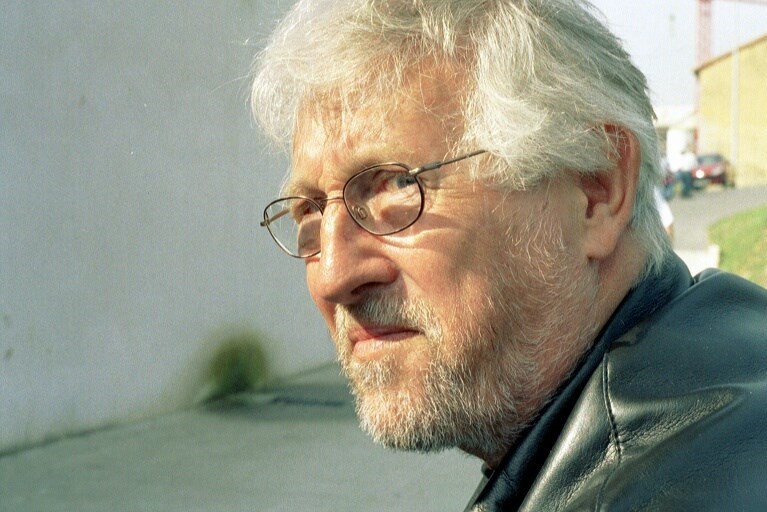 I met Dennis as a stranded rider of an aged 1973 Honda CB250K4 on one of Oxford's arterial roads in my young 20's (1993?) and I tried my best, but I had one of the little beauty's well known problems, the camshaft had run into its bearing shells. Dennis saw me and the problem, helped me load my bike onto the pick-up, put a Motorcycles Classic in my hand and we drove to Burnham.
Andi Fierman was also there and Dennis took me on his Guzzi to the Guzzi meeting and regulars' table in West London. That was a fast ride through tight single track bends with gravel and………Beautiful evening and a few came along afterwards to help pare down Dennis's collection of Belgian beer. Since then I know why Belgians rarely drink more than one beer.
I enjoyed the soft living room sofa and before Dennis left for work, he removed the camshaft and took it to a friend at a lathe. Turned it off, fitted the bush on it and with Andi, Dennis and I marvelling at the time and RollsRoyce liquid gasket, reassembled the engine. In the evening I carefully rode the Honda around Burnham again. Unbelievable. Stories that only life can write. Dennis gave me some tips and addresses along the way and I finally said goodbye to my idea that anyone over thirty is not to be trusted.
From then on, he often changed my life for the better. Not everything worked out, or sometimes I just needed a little longer.
Thank you Dennis!
---
Dennis traf ich als gestrandeter Lenker einer betagten Honda CB250K4 von 1973 an einer der Ausfallstraßen von Oxford in meinen jungen 20er Jahren (1993?) und ich versuchte mein Bestes, aber ich hatte eines der bekannten Probleme der kleinen Schönheit, die Nockenwelle war in ihren Lagerschalen eingelaufen. Dennis sah mich und das Problem, half mir mein Motorrad auf den Pick-Up zu laden, gab mir ein Motorcycles Classic in die Hand und wir fuhren nach Burnham.
Andi Fierman war auch da und Dennis nahm mich auf seiner Guzzi mit zum Guzzi Treffen und Stammtisch in West London. Das war eine schnelle Fahrt durch enge Single-Track Kurven mit Schotter und………Schöner Abend und ein paar kamen danach noch mit um Dennis Sammlung an belgischem Bier zu schmälern. Seither weiß ich warum die Belgier selten mehr als ein Bier trinken.
Ich genoß das weiche Wohnzimmersofa und bevor Dennis zur Arbeit fuhr, hat er die Nockenwelle ausgebaut und sie einem Freund an einer Drehbank gebracht. Abgedreht, passgenaue Buchse drauf und mit Andi, Dennis und ich staunendem Zeitgenossen und RollsRoyce-Flüssigdichtung den Motor wieder zusammengebaut. Am Abend fuhr ich vorsichtig wieder auf der Honda um Burnham. Unglaublich. Geschichten, die nur das Leben schreiben kann. Dennis gab mir noch Tips und Adressen mit auf den Weg und ich nahm damit endgültig von meiner Idee Abschied, alle über Dreißig ist nicht zu trauen.
Von da an hat er mein Leben oft zum Guten hin verändert. Es hat nicht alles geklappt oder manchmal brauchte ich halt etwas länger.

Danke Dennis!